Celebrating birthdays is something we LOVE to do and specialize in! Come plan a hassle-free party with us. All-inclusive! Everything you need for a great party is included. All you have to do is get your guests here.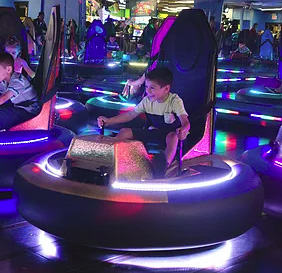 Every party includes:
2 hour exclusive use of a party room
Party Host
Set up and clean up
Cups, plates, utensils napkins and a table cover
Unlimited pitcher refills in the party room
Two slices of pizza per player
No outside food or drinks are allowed, except for a birthday cake. Please bring your own cake knife, candles and matches.
When your group comes in, please bring a waiver for each person.
10-Player Packages

Standard Package $325

2 Laser Tag games per player
2 Laser Maze games per player
100 Arcade Tickets for the guest of honor
Two FREE games at next visit for the guest of honor

$25 per additional guest
$5/person for additional Laser Tag Games

Premium Package $345

2 Laser Tag games per player
1 Laser Maze per player
1 Bumper Car ride per player
200 Arcade Tickets for the guest of honor
100 Arcade Tickets for party players
Two FREE games at next visit for the guest of honor

$29 per additional guest
$5/person for additional Laser Tag, Lazer Maze, or Bumper Car

15-Player Packages

Standard Package $450

2 Laser Tag games per player
2 Laser Maze games per player
100 Arcade Tickets for the guest of honor
Two FREE games at next visit for the guest of honor

$25 per additional guest
$5/person for additional Laser Tag Games

Premium Package $475

2 Laser Tag games per player
1 Laser Maze per player
1 Bumper Car ride per player
200 Arcade Tickets for the guest of honor
100 Arcade Tickets for party players
Two FREE games at next visit for the guest of honor

$29 per additional guest
$5/person for additional Laser Tag, Lazer Maze, or Bumper Car

20-Player Packages

Standard Package $590

2 Laser Tag games per player
2 Laser Maze games per player
100 Arcade Tickets for the guest of honor
Two FREE games at next visit for the guest of honor

$25 per additional guest
$5/person for additional Laser Tag Games

Premium Package $645

2 Laser Tag games per player
1 Laser Maze per player
1 Bumper Car ride per player
200 Arcade Tickets for the guest of honor
100 Arcade Tickets for party players
Two FREE games at next visit for the guest of honor

$29 per additional guest
$5/person for additional Laser Tag, Lazer Maze, or Bumper Car

Please make special arrangements if your party is more than 30 people.

Party Extras
Large Pizza, any topping
$20
Quarters may be purchased from us or from the change machine