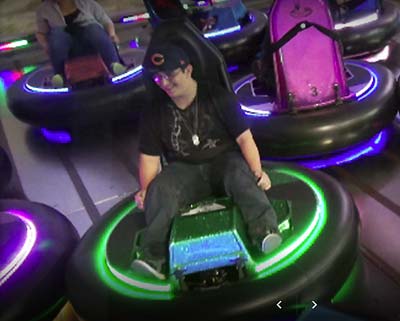 Bump and glide your way around the arena! Make all the moves you're not allowed to do in a real car.
In between bumper cars and laser games, try out our fantastic selection of arcade games .
Walk-In Prices and Packages

Laser Tag Pricing

Base Price
$11.99/game/person Monday thru Thursday
$12.99/game/person Friday, Saturday, Sunday
Includes 1 game, safety orientation, full laser tagging vest & laser gun, printed personalized score card
Additional Games
2nd Game $8/person
3rd Game $4/person (Wow!)
Walk-in Groups
3-game pack
$24/person
5-game pack
$32/person
10-game pack
$55/person

Laser Maze and Beam Buster

Base Price (2 games)
$6.99/person Includes 2 Laser Maze or Beam Buster games.
High scores recorded in our Hall of Fame.

Bumper Cars

Base Price
$7.99/person Includes one 5-min. ride
Must be at least 44 inches tall, and weigh less than 275 pounds to ride in bumper cars.

 Please see our special Group Packages for birthday parties, corporate and community groups, sports teams, fundraisers, reunions and other groups. Reservations are required.

No outside food is allowed except for birthday cakes for pre-booked groups. Please check packages for other conditions.